Defamation Claims
At Bond Turner, we specialise in complex personal injury and clinical negligence claims, defamation, professional negligence, and abuse. We understand what you have been through and know that you need a legal advisor to support you and your family during this difficult time.
Providing a highly regarded and respected service for clients is the foundation of being a successful business. It can take years to build this good reputation. Yet, just one negative comment can destroy this, leaving you to pick up the pieces and wondering how to regain the status you once held.
In this world where online publications are accessible forever and social media is prevalent, this problem has been exacerbated – and when the negative comments are unfounded, it can be detrimental. Defamation of your character can have a hugely negative impact on both your business and your overall wellbeing.
If you feel you have been defamed and this has caused serious harm to your reputation (and a financial impact if you are a business), get in touch with Bond Turner. Our team of solicitors is skilled in handling defamation claims and can defend both individuals and businesses in order restore your reputation and secure the compensation that you deserve.
What is defamation?
Defamation is a false statement presented as fact that can be damaging to the person or company being referenced in the statement.
This means that, even if your business is award-winning and has been widely regarded as an industry leader for over a decade, one false negative statement can make others think badly of your business, tarnishing your reputation.
To begin to reverse the damage done by this defamatory statement, it's worth knowing how defamation works and the key terms to look out for. This is because it is a good steppingstone towards understanding the different elements of a defamation claim and the process involved.
There are two types of defamation of character:
Libel refers to a defamatory statement that is published and permanent. In this instance, it applies to written materials, such as books, magazines and newspapers. It's also classed as libel if it's a comment that's made on social media. Allegations made on radio and TV are also covered under libel as these broadcasts are classed as permanent and published.
Slander is an untrue defamatory statement that's verbalised. By speaking the false, damaging statement out loud, this can also impinge on a person or business' reputation.
By employing a solicitor that is skilled in handling defamation claims, it's possible for you to get compensation for this and potentially reverse this negative view of you and your business.
Defamation or opinion?
At this point, it's important to draw the distinction between defamation and opinion. An opinion is something that cannot be empirically proven, whereas a defamatory comment is something that can be proven either way and, if it's proven to be untrue, it's defamatory.
For example, saying that you don't like someone is an opinion. Saying that the person you dislike stole something could be defamatory if it's proven to be a false statement. This is why in newspaper reports 'allegedly' follows the name of the accused in order to not defame the person until the ruling is given as to whether they are guilty or not.
Having this distinction between defamation and opinion in mind is useful before you embark on the defamation claims process.
A question of intent?
As someone who believes they have been defamed, you must prove that the statement was false. This is something that has to be proven regardless of the intent behind the statement. In fact, the intention behind the statement is irrelevant, meaning it's possible to defame someone accidentally.
A competitor saying their product is better than yours, for instance, is not something that a court will rule on as this comparison is opinion-based. However, if your competitor said their product is better than yours and that your product is a fire hazard, this is a comment that can be proven to be false.
Here, regardless of whether they genuinely believed the statement they made and there was no malicious intent behind it, they could be proven to have been defamatory.
What are the key defences that can be used?
While you, understandably, feel that you are suffering as a result of the defamatory statement that has been made against you or your business, there are some common ways that the person who made the statement may argue their case. Being aware of the most common types of defence in this scenario is useful for you to gain an understanding of how solicitors such as the defamation claims experts at Bond Turner will treat your case.
This is the main argument that is likely to be put forward by the defendant. If they can prove that the claim in their statement is substantially true, they could have a defence.
This is another statutory defence. It protects people who tend to have an opinion as part of their profession – for example, critics and reviewers – and enables them to express honestly held opinions. This is a complicated defence to make as the defendant has to prove they held the opinion on the basis of a fact that existed at the time of publication.
This is an update to the previous public interest defence that was also brought in as part of the Defamation Act 2013. The defence must show that the statement complained of was, or formed part of, a statement on a matter of public interest and that, in publishing the statement, it was in the public interest.
Public interest itself is not defined in the Act, so this is where the defence could find an opportunity to throw your claim out.
Whatever argument the defence pursues, a highly skilled solicitor is able to prove that defamation has occurred and that your claim ought to be upheld. We work with you to do this and follow the process to the end.
If the statement complained of was made in certain situations, for example where the person making the statement can be said to have had a legal, social or moral duty to make the statement to the person or organisation to whom it was made, the defendant may argue that the statement was privileged and therefore not subject to a valid claim for defamation. There are many situations in which this defence may apply and Bond Turner will advise you whether this defence may be argued in your case. However the defendant would not be able to successfully rely on this defence if you can prove that they acted with malice when making the statement.
How will I know if I can make a defamation claim?
The most significant way to work out if you can make a claim for defamation of character is to consider the fallout of the statement that was made. If the statement has meant that you have lost customers, suppliers have opted to cease working with you, or you are unable to work, these all have financial implications for you or your business.
As slander is not as straightforward to prove as libel, these financial implications are one way in particular that you can prove a slanderous statement has been made.
However, even if the false statement that you believe to be defamatory has not or has not yet had any impact on your finances, it's worth contacting an experienced solicitor to explain what has happened as it could still be proven that your reputation has been damaged. This means that you could still have a case to make.
Is there a time limit for making a defamation claim?
There are strict time limits to bring a defamation claim, so, even if you are unsure about whether you have a claim to make, it could be beneficial to have a conversation with our legal team. Usually, the time limit is one year from the date the defamatory statement was first published and this is only altered in exceptional circumstances. Therefore, bringing defamation claims to the attention of legal experts is in your best interest.
How can I make a claim?
If you think that you have suffered serious harm to your reputation and/or financial loss due to a statement that is a defamation of your character, we will help you claim compensation.
Begin the claims process by speaking to one of our team today. The sooner to get in touch with Bond Turner, the sooner we can work with you to rectify the damage to your reputation by helping you seek damages.
When you talk to our team, we'll be able to establish what happened and what your next steps are. We are experienced in no win no fee defamation claims, and we'll take you through every stage of the process. You can call us, make an online enquiry, or request a callback at a time that works for you.
To make an appointment with one of our SRA regulated solicitors about a defamation claim, please call 0151 236 3737 or email info@bondturner.com.
Get in touch today
"*" indicates required fields
Sarah Sykes
Our expert for Defamation Claims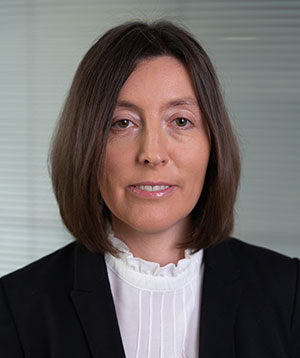 Solicitor
Sarah is a highly experienced litigator with expertise in a wide variety of work. She joined the Liverpool office of Bond Turner in 2011 and works in the Professional Negligence department.